Photo credit: Raptors HQ
The Disney basketball bubble is back in a brand new way.
The NBA will be hosting 18 G League teams (including the newly formed G League Ignite team designed for NBA prospect development) for a 15-game season. Due to travel concerns over COVID-19, the season will take place in Orlando, Florida, at Walt Disney World's campus, which will once again be transformed into a bubble.
Teams were given the choice to pay a "buy-in" fee to participate in the season and allow their team to continue development and operations as normal. The Raptors will be entering their own affiliate, the Raptors 905, and sending them on down from Mississauga to Orlando to compete for another G League championship. For the Raptors, this also serves as an opportunity to continue the growth of their program, after seeing plenty of success early on.
Look no further than the Raptors' current personnel as an example of how the Raptors have been perhaps the best organization in the league at utilizing their minor league team to harvest and grow resources for the big league club to use later on.
Many are taking note of the Raptors 905's efforts and beginning to see them as a model franchise, as they were recognized by the G League as the Franchise of the Year for the 2019-20 season this morning:
In fact, on the Raptors' 15-man roster, five rotation players are former 905 alum: Pascal Siakam, Fred VanVleet, Chris Boucher, Norman Powell, and Paul Watson. Siakam and VanVleet most notably led the Raptors 905 to a championship in 2017, just their second season of existence, and Chris Boucher took home G League MVP honours in 2019.
Where some teams have utilized the system for player growth, the Raptors have taken it a step further, using the 905 to develop their coaches and management as well. Raptors assistant Jama Mahlalela coached the team last season to gain experience as the lead coach, and has now returned to Nick Nurse's staff. The Raptors have now deployed assistant coach Patrick Mutombo as the 905's coach for this upcoming season to garner the same experience. Dan Tolzman began his career with the Raptors as a scout before being elevated to general manager of the 905, and now serves as the assistant GM to Bobby Webster.
Beyond that, there are plenty of examples of success with utilizing the system as it relates to the Raptors. Former Raptors assistant Jerry Stackhouse coached the 905 for two seasons, and is now the head men's basketball coach at Vanderbilt University. Nick Nurse and his former assistant who is now the head coach of the Indiana Pacers, Nate Bjorkgren, were previously head coaches in the G League as well.
As the Raptors 905 get set to kick off their season against the Rio Grande Valley Vipers on Wednesday, they will look to recreate some of this magic that is already working wonders for them. Here are three of the biggest storylines to watch as the 905 kick off their season:
Rookies Seizing the Opportunity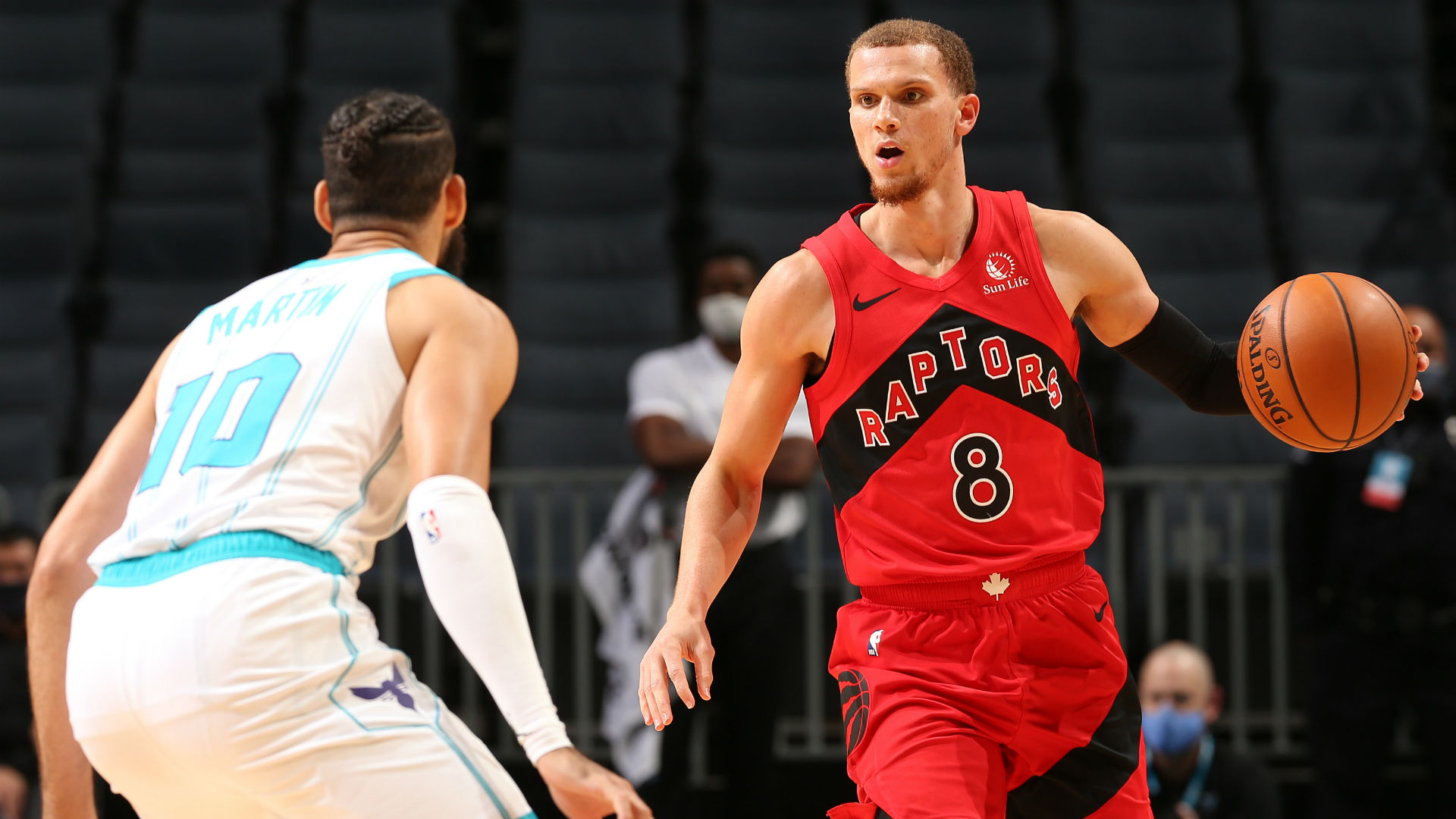 For the Raptors, this bubble season is an opportunity to truly evaluate their two 2020 draft selections. Last week, the organization announced it would be sending guards Malachi Flynn and Jalen Harris to Orlando to compete in the bubble season. Flynn, the 27th overall selection, played sparingly in 13 games prior to his assignment, showing flashes here and there but ultimately failing to crack the rotation. Harris played a grand total of four minutes in two games.
For Flynn, this serves as an excellent opportunity to learn and grow as a guard playing against heightened competition. In college, the 22-year-old was known as an intelligent and savvy player who could create his own shot while being elite on the defensive end. For every NBA rookie — but especially point guards — there is a steep learning curve, and this was evident when it came to Flynn, as there were several missed defensive rotations and an inability to get the offence set.
The silver lining is that Flynn will have ample room to grow with this team and get reps against good competition. Since the Raptors 905 operate with a very similar system to the big league club, Flynn should be able to learn team schemes and have the game slow down for him.
The biggest areas of focus for Flynn in Orlando should be to work on creating offence for others, and to be able to defend at the NBA level. If he can become adequate in these two aspects of the game, he should be able to find himself minutes in the rotation as a reliable backup guard.
For Harris, the biggest area of focus will be scoring at the NBA level. As a senior at Nevada, Harris averaged 21.7 points on strong efficiency, but as a six-foot-five combo guard, it will be much tougher to find buckets against NBA defences. Like Flynn, this serves as a tremendous opportunity for Harris to hone his scoring skills and work against higher levels of competition to carve out a role in the league.
Since 2010, there are only three players who were selected 59th overall that ever saw an NBA floor: Harris, former Raptors draftee Dewan Hernandez (who was waived, but signed to the 905 as well), and Cleveland's Jaron Blossomgame. Harris has a chance to change history at this draft spot, and it starts with his stint in Orlando.
With Flynn at the offensive helm, the two Raptor rookies should develop a nice rapport after competing against each other in the NCAA's Mountain West Division last year. If the rooks are able to work together to help progress each other's games, it should help their development tremendously, and the Raptors will certainly be pleased.
Comeback Season for Former NBAers
One of the great things about the G League is the fact that it also serves as a platform for aspiring hoopers trying to make it to the show. In some instances, for some players whose first roundabout with the NBA did not pan out well, it is a second chance to work on themselves and their game and find a way back to the league.
The Raptors 905 have five former NBAers headed to the bubble as part of the team: Henry Ellenson, Alize Johnson, Gary Payton II, Missisauga's Nik Stauskas, and the aforementioned Dewan Hernandez.
The name that sticks out to most is probably Stauskas. A former 8th overall pick of the Sacramento Kings in 2014, bounced around five teams before signing in Spain for the 2019-20 season. In 22 EuroLeague games, Stauskas shot 42% from three, a higher percentage than in any of his five NBA seasons.
Coming out of college, Stauskas was renowned as a sharpshooter and someone who could create offence from anywhere on the floor. Against NBA defences, he struggled to get the same separation that he so easily managed against college competition. For the 27-year-old, this is an opportunity to prove that his game truly can translate at the NBA level after some hiccups in his first stint.
Ellenson, a former 2016 first round selection, is following a similar storyline. He played for three teams across four seasons before winding up with the Raptors for a training camp tryout. He ultimately did not make the team, but will get the opportunity to develop with the G League team.
Gary Payton II (yes, the son of that Gary Payton) is looking for a way back into the league with 61 games under his belt. Alize Johnson, who played 31 games for the Indiana Pacers across two seasons, is looking for the same. Dewan Hernandez was waived by Toronto in November to clear a roster spot, but will remain with the team's development program to continue to work on his game.
For these five former NBAers, this season represents an opportunity for them to keep chasing their dreams and find a way to stick around NBA basketball. This roster has plenty of talent, and they should be able to make the most of it to set up future endeavors.
Patrick Mutombo's Coaching Development
Patrick Mutombo is the latest coach to step into the spotlight of the Raptors 905 development program.
A Raptors assistant coach since 2016 specializing in player development, he slowly worked his way from the back of the bench to a front-row assistant. Now, as he swaps places with Jama Mahlalela, Mutombo prepares for the biggest challenge of his coaching career: being the main guy.
For lots of assistant coaches, the transition from assistant coach to head coach is more than they bargained for. The Toronto Raptors have attempted to get ahead of this by offering ample preparation for these moments so they can groom their coaches for eventual opportunities. Nick Nurse even benched himself during a game in the bubble to give lead assistant Adrian Griffin a head coaching audition.
Mutombo is only 40, and given his strong track record of player development — most notably with players such as Pascal Siakam, OG Anunoby and Fred VanVleet — this is his chance to showcase that he can get it done as the lead guy on the bench. Tasked with leading the 905 in their quest to capture a second championship, Mutombo will also have his hands full managing the development of Flynn and Harris, giving the former NBA players a chance, as well as implementing the offensive system the big club uses to get players familiar with the program.
This should help tremendously, as the program starts at this level and works its way up. It will serve as essential experience for Patrick Mutombo as he works toward one day fulfilling his dream of being an NBA head coach.
As the G League season kicks off on Wednesday, the Raptors 905 should have plenty of interesting developments to follow along with, many of which could have implications on the Raptors. The 905 are facing perhaps their most intriguing season yet, as they look to bring along not only players, but coaches as well. With only two months to accomplish these goals, the G League season is sure to be an exciting one.
The Raptors 905 will kick off their season against the Rio Grande Valley Vipers on Wednesday night at 7:30 PM EST. The G League will be broadcasting all their games online, which you can find on Facebook, Twitch, and YouTube.