Photo Credit: Toronto Raptors/Twitter
To watch the Raptors' full media day coverage, click here.
The 2021-22 season is finally in full swing, with things kicking off with a bang this morning from the Toronto Raptors' media day.
While training camp does not officially begin until tomorrow, the team has been in Toronto for the last two weeks practicing together and getting ready for another exciting season. The overall vibe around the organization has been extremely strong, and fans are gearing up as the team gets set to play in Toronto for the first time in 19 months.
This morning, the media was able to speak with General Manager Bobby Webster, as well as head coach Nick Nurse, and Pascal Siakam, Fred VanVleet, Gary Trent Jr and Goran Dragic. Each offered a lot of insight as to the trials and tribulations of last season, how the team feels much more prepared to take on this year, and expectations for the upcoming season.
Here are some of the biggest takeaways from this morning:
The Raptors Will Achieve a 100% Two-Dose COVID-19 Vaccination Rate by Opening Night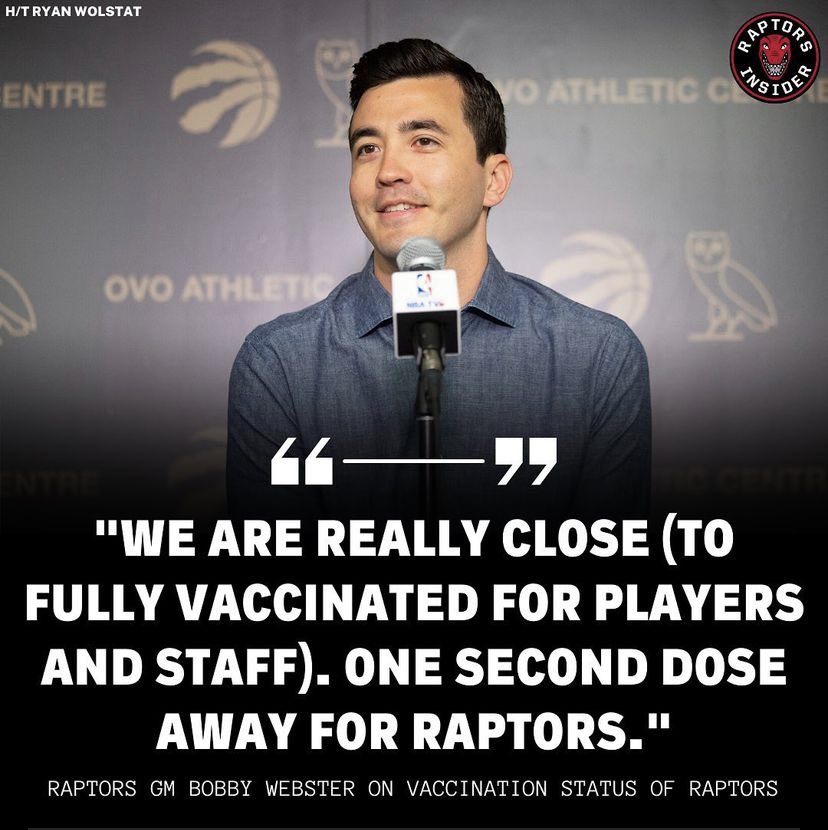 This is, far and away, the biggest news that we've gotten from today's press conferences.
Since the team's announcement a few weeks ago that they would be returning to Toronto for the 2021-22 season, as well as the NBA's policies that indicate some players would be barred from playing in certain markets without vaccination, there was plenty of concern for Canada's lone NBA franchise on travel restrictions and how that would impact the team.
Bobby Webster has put all this speculation to rest, announcing that all personnel are fully vaccinated against COVID-19, and 14 of 15 players have received two doses of the shot. The one player who is not yet fully vaccinated will be receiving their second shot in the next week or so, and are expected to be fully inoculated in time for tip-off on October 20th.
The impact of this announcement has massive positive implications; first and foremost, Webster and the Raptors are sending the right message to the league by ensuring everybody is vaccinated, and ensuring all of their own are protected, knowing that the team had multiple cases and exposures with the virus last year. Second, they are setting an example for what other teams should be doing to get the NBA as close to its normal operations as possible, and keeping everybody safe.
And, of course, with a 100 per cent vaccination rate, the team will be able to operate with lessened health and safety protocols, which should provide a smoother experience overall compared to last season. The Rolling Stone's explosive article released earlier this week detailed how some prominent players such as Brooklyn's Kyrie Irving and Golden State's Andrew Wiggins may not be allowed to play in their home markets whatsoever without a vaccine, making them liable to miss over 50 games this year.
The fact that the Raptors are in Canada, and the current restrictions only allow fully-vaccinated people to travel by plane in and out of the country, the Raptors are safe from these restrictions, meaning they should expect have their full roster available every night. Webster also announced that unvaccinated players on opposing teams would be exempt from the mandatory 14-day quarantine upon arriving in Canada, but would be subject to strict rules and will only be allowed to attend the team practices and games.
Most importantly, the Raptors are minimizing their own risk and doing right by society, keeping themselves and others safe. This was an answer we'd been waiting on for quite some time, and as expected, the organization delivered on every front.
Pascal Siakam Is Returning With a New, Refreshed Mindset
Pascal Siakam opened his press conference with a very telling quote, and this is what's going to really set the tone for his whole season.
Last year can only be characterized as a total rollercoaster for Pascal Siakam. There were many obstacles he had to deal with throughout the year: he had a (very) short off-season, there was a misfit in the starting lineup playing next to Aron Baynes, contracting COVID-19 halfway through the season and never quite finding his rhythm, and ending a tumultuous season on a miserable note by tearing his labrum in the final week.
On top of all that, Siakam dealt with something else: the pressures of being "The Franchise Player". Practically everything that could have went wrong for Siakam last season did, and this year, he's choosing to put it all behind him.
What has made Siakam so successful in the league is his boundless energy and commitment to getting better. Last season absolutely could've broken him; it would have broken almost every other NBA player. It was an absolute relief to see him in such good spirits this morning, and he spoke with an energy we quite frankly haven't seen from him in nearly two years. He looks and feels renewed, and as he continues his rehab, he is excited and energized just to play basketball again.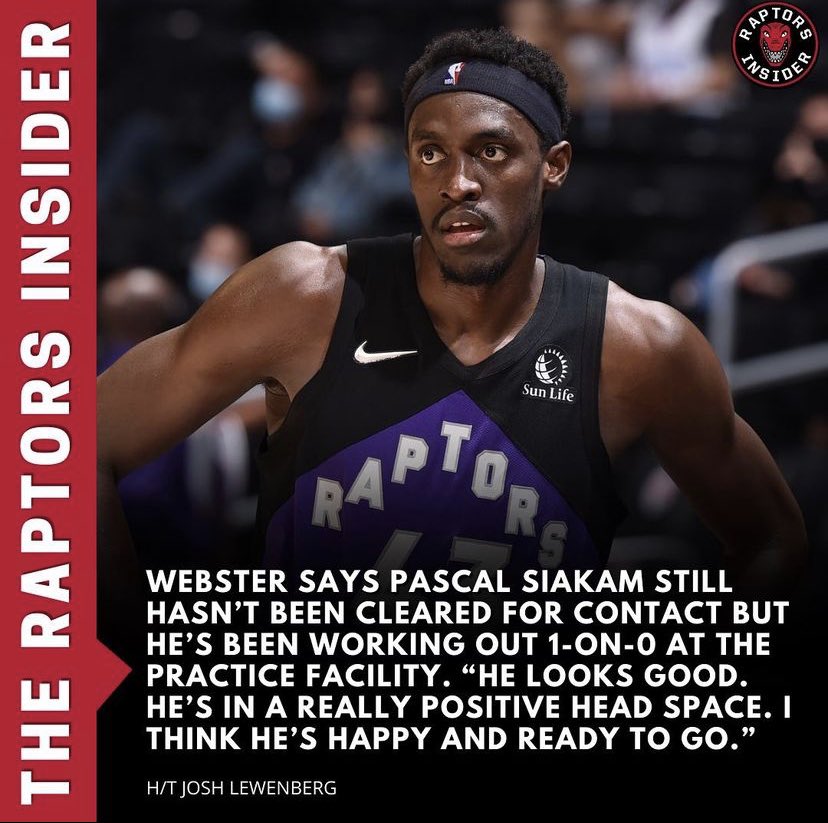 While Siakam isn't expected to take the court for another month or two, one thing is for certain: he's going to be ready to play. It genuinely feels as though his joy for the sport is back, and Raptors fans couldn't be happier for him.
Goran Dragic is Fully Committed to The Toronto Raptors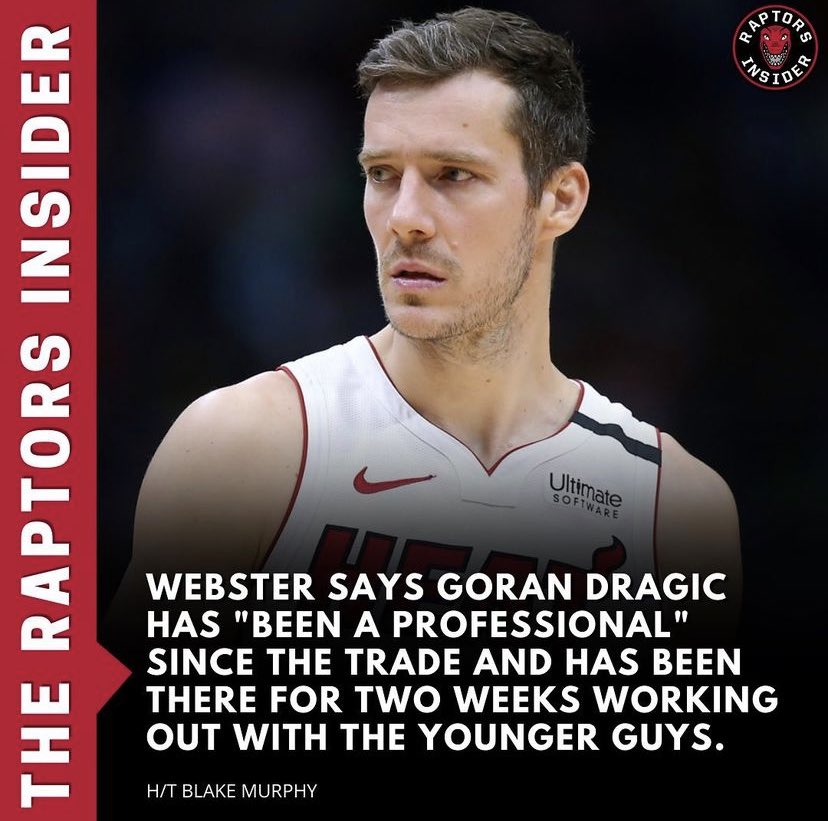 Shortly after the Toronto Raptors acquired Goran Dragic and Precious Achiuwa from Miami in a sign-and-trade for Kyle Lowry, a quote was released from a Slovenian news network that put Dragic on the hot seat almost immediately.
"Toronto is not my preferred destination. I have higher ambitions. We'll see."

Goran Dragic
Speculation had already begun at this point that the Raptors would look to move Dragic before the season starts, and since a trade has not yet materialized, he's here and he's looking forward to being here.
While there was never any imminent concern about whether or not Dragic would report to the team, it's still a very positive sign that Dragic has actively taken on a mentorship role. As we noted in our player preview, Dragic still has plenty to offer this team should he remain here; and by all accounts, it looks like he will begin the season with the Toronto Raptors.
He spoke glowingly of the organization and the younger players, and mentioned that he wants to be what Steve Nash was for him coming up in the Phoenix Suns organization. Dragic is a one-time All-Star and played a key role as the sixth man in the Miami Heat's 2020 NBA Finals run. For now, he is committed to this team, and he is set on earning the trust of the fans back.
Everybody Loves Scottie Barnes
One very common theme amongst every single person's press conference today is how high everybody is on Scottie Barnes as a person and a basketball player.
Webster, Nurse, VanVleet, Siakam and Dragic each offered heaps of praise for the young forward, complimenting his infectious energy and his desire to improve as a player. It doesn't come as a surprise, considering Barnes won Toronto fans over almost immediately, but it's still exciting to see the organization shares the same excitement that the fans do already.
Nick Nurse also stated in his press conference that his plan is to have a "huge" role for Barnes. With Siakam out to start the season, Barnes is expected to be the fill-in starter at the power forward position for the first month of the season, and figures to be a prominent rotation member as they look to develop him.
Another important thing Nurse noted is that Barnes' shot mechanics look exponentially improved compared to his form at Florida State last season. His lack of outside shot was perhaps his one big perceived area of improvement heading into the summer, and it looks as though he's taking the necessary steps to mask his weaknesses and has already begun his development.
Training camp will officially kick off tomorrow, and we can only expect more positive developments out of the Raptors. While there are no official press conferences, various players will be available throughout the week and we will finally get to see the group in action.
It's official: the Toronto Raptors are BACK.
Stay tuned for more coverage by following The Raptors Insider on Twitter, Instagram, and Facebook.