Photo Credit: Scott Audette/NBAE via Getty Images
After suffering an injury in a game against the Memphis Grizzlies on May 8th and missing the final four contests of the season, Toronto Raptors' star forward Pascal Siakam underwent surgery to repair a torn labrum in his left shoulder in early June.
Recovery and rehabilitation for this type of procedure is expected to take approximately five months, meaning Siakam will likely miss the start of the 2021-2022 NBA season, slated to tip off in late October. The 27-year-old hoped to avoid surgery, but he and the Raptors' medical staff deemed it to be the best course of action to avoid re-injuring it more severely in the future.
His recovery will likely keep him from working on improving and growing his game, after a good but inconsistent season in Tampa (check out our review of his season here). He's shown time after time that he uses the off-season to refine his strengths and shore up his weaknesses. The fact that this summer will be somewhat of a wasted off-season for a talented player with room to grow will concern many who follow Raptors basketball.
What is a labrum?
According to John Hopkins Medicine:
"The labrum is a type of cartilage found in the shoulder joint. The shoulder is a ball-and-socket joint where the arm meets the body. The arm bone (humerus) forms a ball at the shoulder that meets the socket, which is part of the shoulder blade. These two bones are connected by ligaments — tough tissues forming tethers that hold the bones in relationship to each other."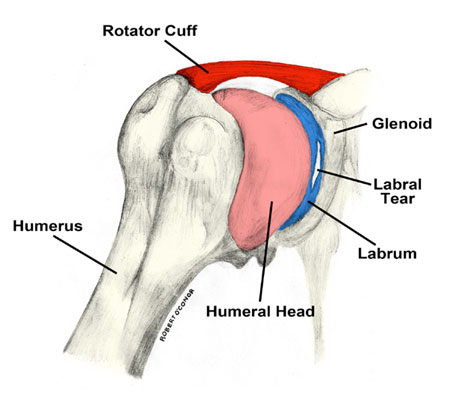 "The labrum has two functions. The first is to deepen the socket so that the ball stays in place. The ligaments are the tethers that go from bone to bone and hold them together to help keep the ball in the socket. The other way the ball is kept in the socket is the labrum. The second function of the labrum is as an attachment of other structures or tissues around the joint. For example, the ligaments that help hold the joint together attach to the labrum in certain key locations. If there is an injury to the shoulder that tears the ligaments, sometimes the labrum is pulled off of the rim of the bone as well."
How important is Pascal's left shoulder?
While Siakam shoots with his right hand, his left hand is still integral to his game. Not only has he improved his finishing at the rim with his left since coming into the league, he relies on that hand in a lot of his drives to the hoop. Notice in the following video how often he'll handle the ball with his left hand as he takes on his defender with his signature spin move.
Siakam's dribbling is among the best in the league for forwards, but tightening his handle is always something he can and should work on. While his effectiveness on drives and post moves is undeniable, he is still prone to turning the ball over. He was second on the Raptors with 2.3 turnovers-per-game, behind Kyle Lowry. His turnovers range from errant passes to offensive fouls, but it's not uncommon to see Siakam swiped while he's going to work with his back to the basket.
Hopefully Siakam's recovery progresses favourably enough so that he can put in significant time on improving his ball-handling in the post.
The star's left shoulder is also an important part of his two-motion shooting technique. Notice in the picture below how much he extends his left arm when rising for a jump shot. He will obviously not have this range-of-motion yet in the early stages of his recovery, meaning he won't get to work on his shot until later in the off-season. This is unfortunate, mostly because Pascal would like to bounce back from a season mired by poor three-point shooting, as he fired at a 29.7 per cent clip in 2020-2021.
Photo Credit: Steve Russell/Toronto Star
Siakam won't get much work in towards improving his finishing through contact, as any physical training will likely have to wait until the end of his rehab stint. Getting to the rim is his bread and butter, and while he's a great paint-scorer, he converted on 56.2 per cent of his field-goals below the basket, just under the league average of 58.5 per cent. A good chunk of the criticism towards Siakam recently has been directed towards the predictability of his offensive game. Both Pascal and the Raptors will hope to diversify his attacking moves as they go forward, but this off-season will only see limited growth in that area. While he waits for his left shoulder to heal, he'll undoubtedly work on his footwork and movement, but any exercises in finishing through a body will be limited.
The good news is that his right shoulder and arm are healthy, meaning he can work on his layup, floater and finishing packages while he waits to get back to full strength. Players like Trae Young are demonstrating how lethal shots like floaters can be in today's NBA, so developing a more reliable scoring package can take Siakam's offence to the next level.
What to expect
Luckily, Pascal Siakam's injury is nothing serious, and most NBA players who came back after undergoing similar surgeries returned to their normal standards of play. Since his dominant arm is operating at full capacity, fans can expect Spicy P to put in the work and improve some areas of his game, as the former NBA Most Improved Player has proven before, rising astronomically since he entered the league as the 27th overall pick in the 2016 draft. Still, understandable concern looms over Siakam's eventual return to play, as he'll have a lot to prove after an inconsistent season and a turbulent off-season, in which his name swirls around in trade rumours linking him to a potential move to the Bay area.