Photo Credit: Getty Images
The Toronto Raptors and TSN will make history on March 24 as the game against the Denver Nuggets will feature an all-female broadcast team for the first time in NBA history. The decision to hold the landmark occasion was announced on International Women's Day on March 8.
As we look forward to what is sure to be a good game and an even better presentation, here is a bit about the women who will be covering Wednesday's battle against Jamal Murray and Co.:
Meghan McPeak, play-by-play announcer
Photo Credit: Meghan McPeak/Linked
McPeak studied radio broadcasting at Humber College in Toronto, graduating in 2009. She worked as a TV reporter and a radio host on TSN Radio 1050 before she became the play-by-play announcer for the Raptors 905, Toronto's G-League affiliate.
In 2018, she became the first woman in 30 years to call an NBA game, doing play-by-play for a pre-season contest between the Washington Wizards and the Detroit Pistons.
You can hear her regularly as the play-by-play voice of the WNBA's Washington Mystics and the Wizards' G-League affiliate, the Capital City Go-Go.
Kia Nurse, play-by-play analyst
Photo Credit: NiceKicks
Raptors fans might recognize Nurse from her appearances on TSN's broadcast, alongside Rod Black and Leo Rautins. But Canadian basketball and women's basketball fans know Kia Nurse as a WNBA All-Star and star of the women's national squad.
Born in Hamilton, Nurse shined on the national high school basketball stage, winning three national championships in a row. Her standout play landed her a scholarship with the prestigious University of Connecticut, where she won two national championships in four years.
In 2018, Nurse was drafted by the New York Liberty with the 10th overall pick of the WNBA Draft. The 6'0 point-guard was selected to the 2019 WNBA All-Star Game in only her second season.
Nurse joined the UC Canberra Capitals in Australia's WNBL in 2019, where she led them to back-to-back championships. She also became the league's first import player to win the MVP award in 2020.
In February, Nurse was traded to the Phoenix Mercury after spending three years in New York. She has often appeared on TSN over the last few years, covering college ball and the NBA. She has consistently appeared on the network's broadcasts of Raptors games this season.
The Nurse family name is one of the most prominent in Canadian sports. Her brother Darnell plays for the Edmonton Oilers of the NHL, and her cousin Sarah Nurse represented Canada in the 2018 Winter Olympics in women's hockey. Her father Richard played in the CFL and her mother Cathy played college hoops. Her uncle is former Philadelphia Eagles star quarterback Donovan McNabb.
Kayla Grey, sideline reporter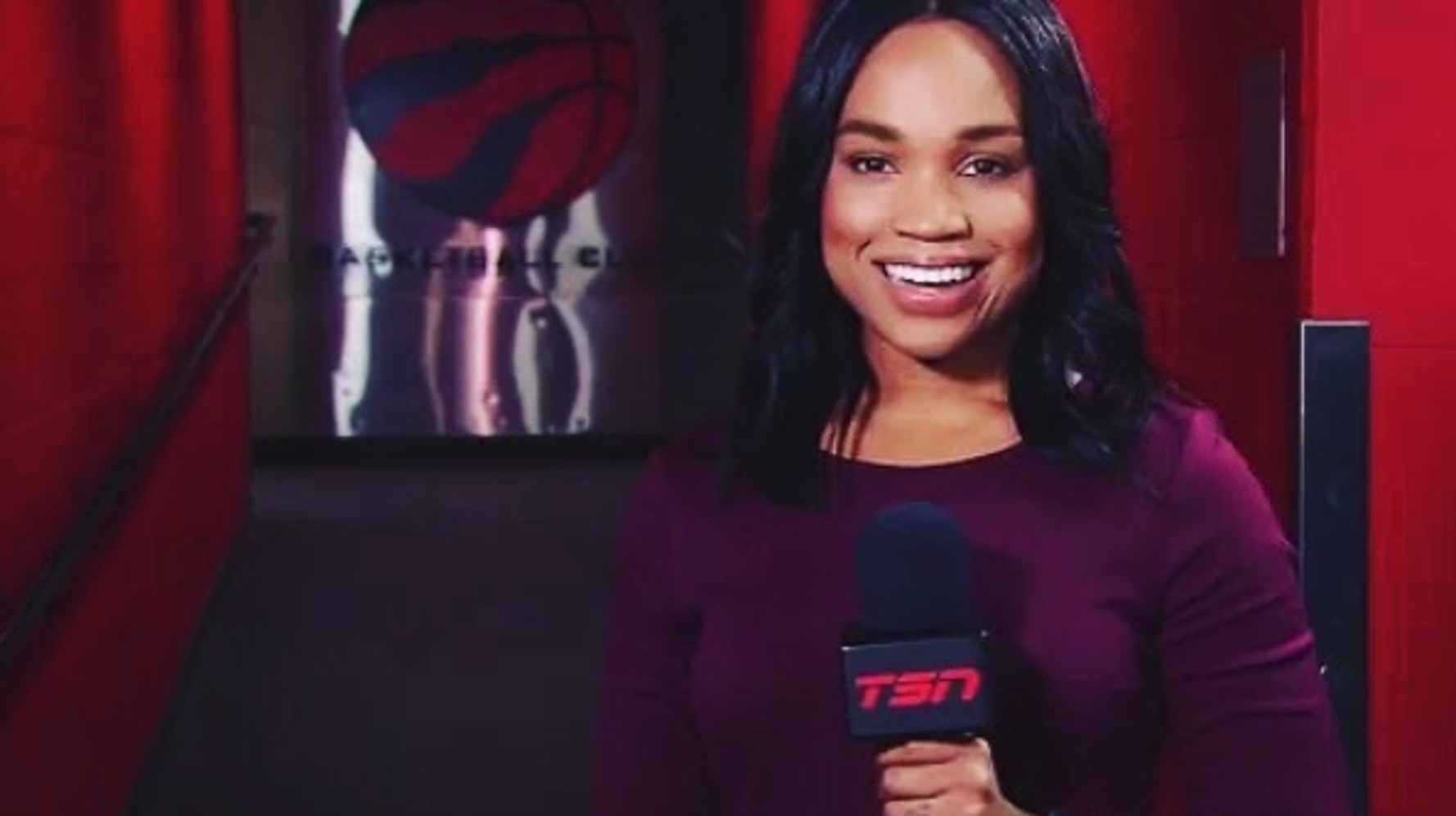 Photo Credit: Kayla Grey/Instagram
Grey graduated from Toronto's College of Sports Media before beginning a broadcasting career as a reporter for Global News in Winnipeg. She also reported for TV in British Columbia before moving back to Toronto to work as a radio producer for TSN in 2015.
Grey became the first black woman to host a major sports-highlight show in Canada when she made her debut on Sportscentre in 2018.
She's a regular contributor on TSN's basketball coverage. Grey served as a reporter covering the Raptors during their run to the NBA Championship in 2019, and covered the championship parade that was viewed by millions of Canadians around the country.
Kate Bierness, studio host
Photo Credit: Wikipedia
It would be hard to find a Canadian sports fan who is not familiar with Kate Bierness and her work. A staple at TSN since 2009, Bierness is one of the most charismatic and entertaining TV personalities in the country.
Born in Port Perry, Ontario, Bierness was determined to become a pro basketball player and make the WNBA. Unfortunately, she tore her ACL in grade 12, forcing her to abandon her dream.
After volunteering at different broadcast stations and a short stint at Sportsnet, Bierness was hired by TSN in 2009. In the summer of 2013, she became the host of the morning edition of SportsCentre.
Bierness has hosted broadcasts for some of Canadian sports' biggest events, like the Grey Cup and the Kraft Hockey Celebration Tour, as well as March Madness, the NBA Draft and the 2012 Summer Olympic games in London.
Amy Audibert, studio analyst
Photo Credit: Niagara College
Audibert was born in Niagara Falls, where she shined as one of the best youth basketball players in Ontario growing up. She was recruited to the University of Miami, where she was named team captain in her senior year and earned a spot on the ACC All-Academic team, earning a Bachelor's and Master's degree during her time in South Florida.
Audibert spent a lot of time on the sidelines and around the coaching staff during her time as a grad assistant in Miami, which led her to pursue development and coaching roles. She is currently an assistant coach on the Brock University women's basketball team in St. Catharine's, Ontario.
She has also recently featured as the colour analyst for the Raptors 905 broadcasts during the team's run in the 2021 G-League bubble in Orlando, Florida.