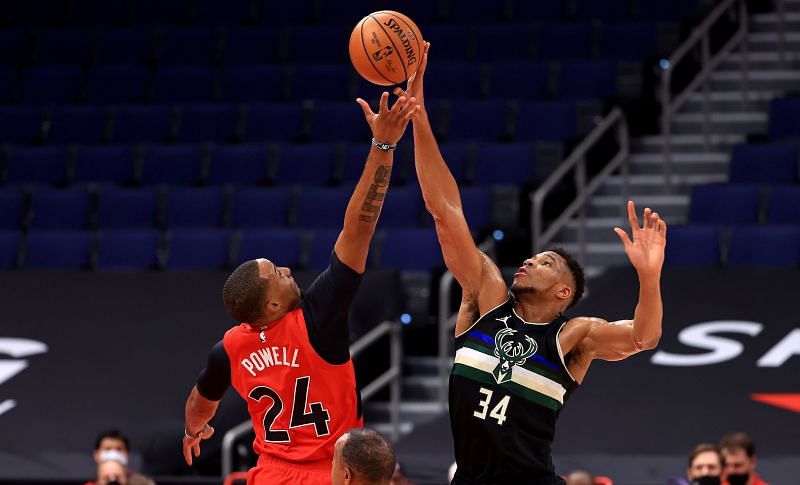 The Toronto Raptors will face the Milwaukee Bucks for the second game in a row on Thursday night at the Fiserv Forum in Milwaukee. Giannis and co. will be looking for revenge after a tough home loss to the Raptors on Tuesday.
The Bucks are also trying to snap an uncharacteristic four-game losing streak and resume their charge for the top spot in the Eastern Conference. Milwaukee's offence is lethal, scoring 120.5 points-per-game, second in the league behind the Brooklyn Nets. They're also second in the league in rebounds-per-game with 47.6; an area of the game Toronto has struggled with this year.
The Raptors' win on Tuesday came as both a statement and revelation, as a small ball lineup featuring both Norman Powell and the returning OG Anunoby proved to be an effective strategy to cope with a contender like Milwaukee. The Bucks' roster boasts some of the league's premier defenders in Giannis Antetokounmpo and Jrue Holiday (currently injured), but the Raptors' quickness in a small lineup can stretch and expose their bigger opponents.
While Giannis is virtually unstoppable, limiting his teammates' influence and offensive production is a key to getting the better of Milwaukee. While the Greek Freak cruised to 34 points on Tuesday, his supporting cast struggled to keep up on the offensive end, with wing Pat Connaughton providing the rest of the spark with 20 points off the bench. Toronto will have to frustrate the likes of Khris Middleton and Donte DiVincenzo once again on Thursday if they want to extend Milwaukee's struggles.
Kyle Lowry left Tuesday's contest with an ankle injury, and is questionable to appear on Thursday. It will be interesting to see if Nick Nurse sticks to the small lineup with Lowry out, or if Fred VanVleet moves to the point and Powell starts as the shooting guard.
We'll see if the Raptors can take down the imposing Bucks once again on Thursday at 7:30PM EST on TSN.