If you enjoy watching basketball at 11:30AM on a weekday, you most likely had an excellent time watching Raptors 905 this week.
The 905 capped off a perfect 3-0 week in the Orlando bubble with a 117-92 beatdown of the Salt Lake City Stars. This, on the heels of a back-to-back in which they staved off a furious comeback by the Agua Caliente Clippers and handling the Santa Cruz Warriors on Monday to improve to 4-2.
To state the team was good this week would be underselling it; they were flat out dominant. In our previous Raptors 905 Report, we outlined a few players of interest, including Raptors rookie Malachi Flynn, who continued his excellent play in the bubble. His averages are now sitting at 20.8 points, 4.5 rebounds, 5.5 assists, and 1.5 steals on 44.2/40.9/91.7 shooting splits.
The perfect week was led by the rookies' solid play, but this was an all-around team effort and a terrific job by the coaching staff, as the 905 seemed to barely break a sweat all week. They were calm, composed, and professional as they picked apart their opponents.
Let's examine the other latest trends from this week in the second edition of the Raptors 905 Report:
Players of Interest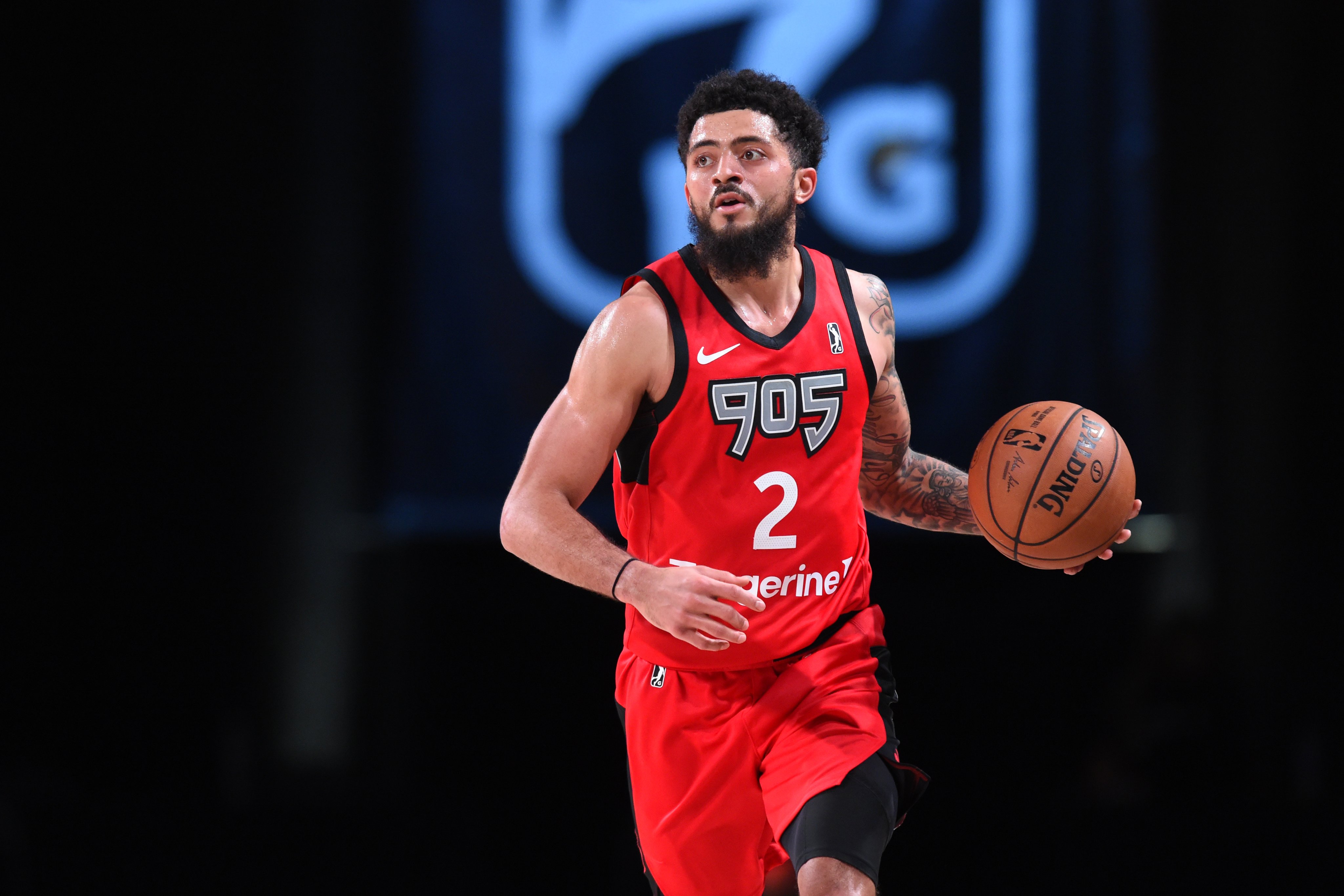 Jalen Harris (Season Stats: 17.2 PPG, 4.0 RPG, 46.8% FG, 48.5% 3FG)
After a somewhat inconsistent start, Jalen Harris is beginning to heat up and show the scoring ability the Raptors were banking on.
Harris led the team in scoring on Thursday against the Stars, dropping 32 points on 12-of-17 shooting. He also chipped in 22 points on Monday, and seems to have really found a role as an offensive spark for the team.
Harris has showcased an ability to create separation from his defenders and displayed good patience on his drives to the rim. The next steps will be for him to become more consistent and eventually prove that the scoring can be sustainable against NBA-level defences, but this is certainly a step in the right direction for the rookie.
Henry Ellenson (Season Stats: 17.7 PPG, 8.3 RPG, 46.1% FG, 36.4% 3FG)
Though this is his fifth stint in the G League, this may be the best Henry Ellenson's looked overall and he is quietly starting to put it together.
By no means is this Ellenson's best season stats-wise, but impact-wise, he is finding ways to contribute to winning and getting to all the right spots. He is at a career-best plus-17.3 net rating, miles ahead of his previous high of plus-7.6 in 2018-19 with the Grand Rapids Drive.
The motion offensive schemes seem to really benefit Ellenson, as he is a constant threat from long distance that defences have to respect. The spacing he provides pulls the opposing big men out to the perimeter and truly opens up the floor for everyone else, much to the benefit of players such as Flynn and Harris.
There are plenty of players who are capable of putting up empty stats in the G League, but Ellenson is getting his stats and playing a truly important role for the team. Ellenson played for the 905 last season and secured a training camp invite in November with the Raptors and if he keeps this up, he will certainly warrant another look for some team, whether it be a 10-day contract or an Exhibit 10 next season.
Offensive Onslaught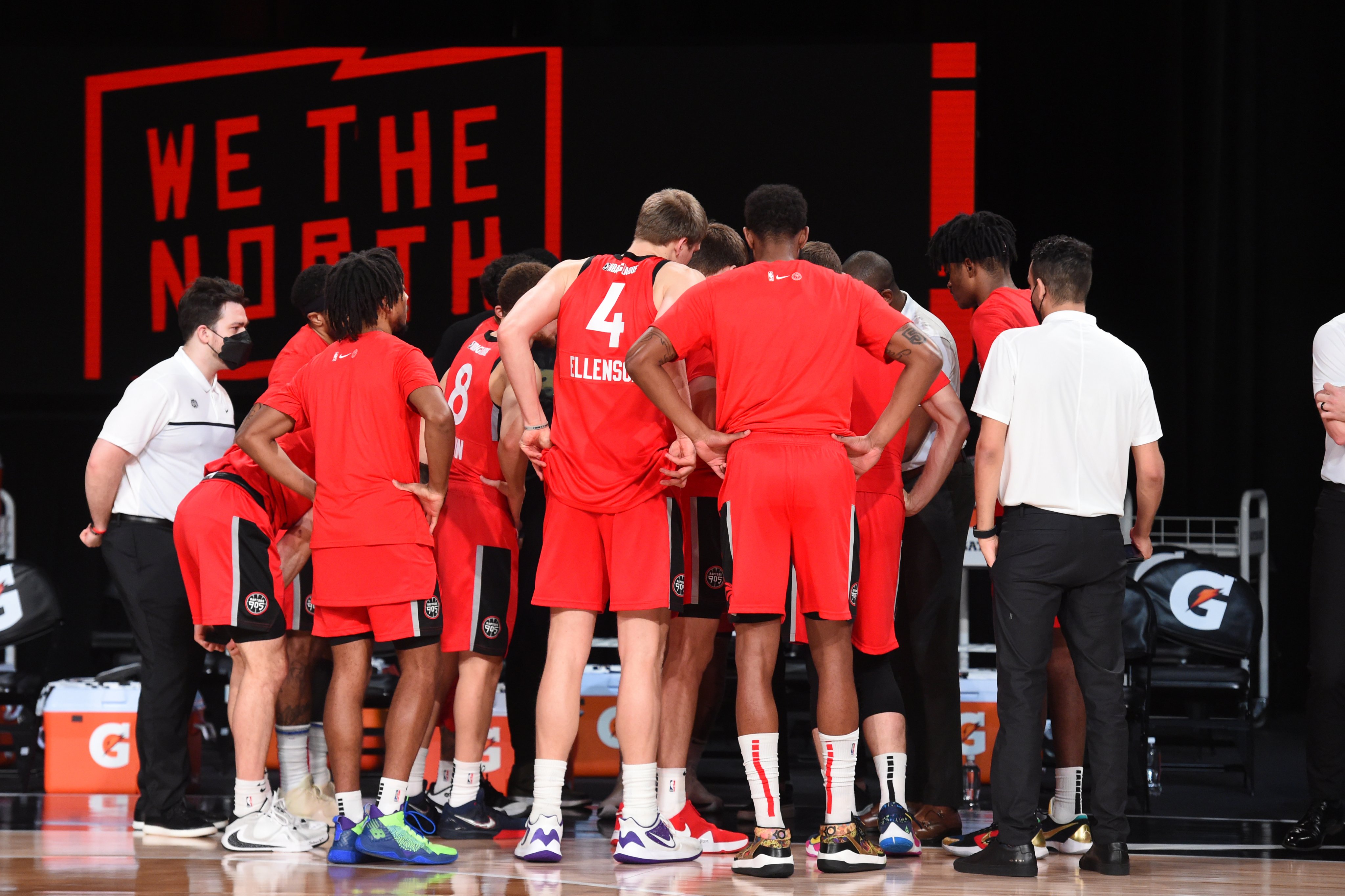 The big key for the Raptors 905 continues to be the offence, as they have been getting almost whatever they want at that end.
Through six games, the Raptors are the league leaders in points per game (122.9), offensive rating (117.9), assist-to-turnover ratio (1.76), and turnover percentage (14.1). The result is a league-best offence that is hyper-efficient while making very few mistakes in the process, impressive for a team being led by its two youngest players.
The team simply overwhelmed all three defences they faced this week, as they scored a combined 373 points in their three games. In all three of those games, they outscored their opponents in the paint (including 68 against the Agua Caliente Clippers) and also hit double digits in three-pointers made in all three games, including 21 against the Stars.
Teams have not had an answer for this offence and if they can follow suit defensively, it's going to be difficult to imagine anyone slowing this team down.
Coach Mutombo Rallies the Squad
In our G League Season Preview, one of the key aspects we highlighted as critical to the season was the ongoing coaching development for Patrick Mutombo. Stepping into his first head coaching gig, Mutombo has made the transition look seamless and the team genuinely seems to love playing for him.
Flynn's leadership on this team has been particularly of note, given he is the youngest player on the team. Most rookies would be apprehensive and defer to other veterans, but Mutombo understands that these skills are vital for any point guard and the G League is a great source of experience for him to become comfortable in this role.
Mutombo has the backing and trust of the Raptors organization, knowing player development is his specialty, and he's returned the favour by rewarding his players.
It's almost uncanny how much Mutombo emulates Nick Nurse at times. He is a laid-back and easygoing guy on the surface, but he is constantly locked in and absorbing basketball knowledge. He has a keen attention to detail and wants to push people to get better.
Most important of all, however, is that his mindset is pinpointed on moving the basketball program forward as a whole, rather than one individual. He wants his players and his coaching staff to constantly be striving for improvement and encourages one another to celebrate in their accomplishments.
No better example of this is seen than on Thursday where the game ball was given to assistant coach Brittni Donaldson for her work in preparing the team for their matchup. She prepared all the game film and worked with the players to exploit the Stars' weaknesses, and the result was a 25-point win. Donaldson has been a budding star within the Raptors' organization and it shouldn't be long before she finds herself at the front of the Raptors bench.
The camaraderie that Mutombo preaches is felt like a ripple wave throughout the entire team. This is a group that wants to play with each other and for each other. He has instilled the mentality that each person is striving for something bigger than themselves. This is the attitude that has kept the Raptors a well-oiled machine throughout their seven-year playoff streak and one that any team should have if their goal is to win a championship.
Raptors 905 Upcoming Schedule
Sunday, February 21st: vs. Fort Wayne Mad Ants @ 7:30PM EST (Broadcast on http://raptors905.com)
Monday, February 22nd: vs. Memphis Hustle @ 7:30PM EST (Broadcast on http://raptors905.com)
Wednesday, February 24th: at Delaware Blue Coats @ 7:00PM EST (Broadcast on http://raptors905.com)
Friday, February 26th: at Greensboro Swarm @ 7:30PM EST (Broadcast on NBA TV Canada)
Saturday, February 27th: vs. Westchester Knicks @ 3:00PM EST (Broadcast on NBA TV Canada)