The Raptors' staunch defence against the Pacers' top players on Sunday afternoon could not be replicated Monday, as Domantas Sabonis and Malcolm Brogdon got off to a hot start. Indiana hit 62% of their 3-point field goals and recorded 70 points in the opening half. Sabonis was forced to leave the game early after suffering a knee contusion in the second quarter, but Brogdon went on to score 36 points, notching 7 rebounds and 9 assists as well.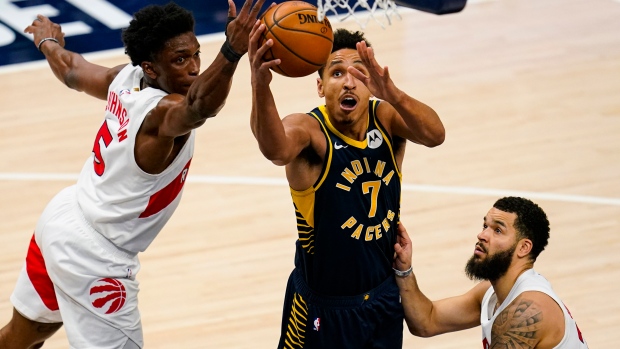 In the absence of his front-court partner, center Myles Turner wreaked havoc in the paint on both ends of the floor. Turner scored 21 points, grabbed 10 boards and recorded 3 blocks. He spent a lot of time at the line as well, sinking 11 of his 16 free-throw attempts on the night, as Toronto had no answer for his physicality at the rim.
Much of the game was lost in the battle between the teams' benches, as some inspired performances by Jeremy Lamb (22 points, 58.3 FG%) and T.J. McConnell (9 assists) overshadowed a timid game by Toronto's bench. Chris Boucher and Yuta Watanabe led the Raptors' bench scoring with nine points each.
Norman Powell continued to make the most out of his role in the starting lineup, notching 24 points in over 39 minutes played. Fred VanVleet led the Raptors in scoring with 25 points, shooting 3-5 from deep.
In his return after missing two games due to a foot injury, Kyle Lowry struggled to find his rhythm, scoring only 12 points on 2-11 shooting from the field and 1-5 from three. OG Anunoby could not keep up the momentum he built over the last few games, struggling to find good offensive looks and notching a meagre 10 points. He missed a significant chunk of the fourth quarter after being hit with an errant elbow as he contested a shot by Pacers guard Edmond Sumner. Anunoby had to go to the locker room to receive stitches on his lip before returning for the last few minutes.
Toronto's night ended on an uncharacteristic note, with Lowry getting ejected for complaining to referee CJ Washington. Head coach Nick Nurse was soon T-ed up as well, making that three technicals charged to the Raptors in the game.
Toronto will look to bounce back against the Milwaukee Bucks on Wednesday night (7:30pm EST / 4:30pm PST).